ClassNK Breaks Records for Class Entries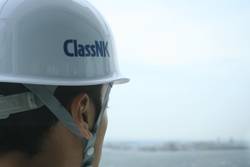 ClassNK Register Closing in on the 200 Million Gross Ton Mark.
ClassNK has announced its final register statistics for 2011, revealing that almost 23 million gross tons were added to the class society's register this past year. The announcement came following a meeting of the Society's Classification Committee, which confirmed that 781 vessels totaling 22,666,948 gross tons were added to the ClassNK Register during 2011. This number substantially improves upon the record set by the Society for new registrations in 2010 by 3,016,462 gross tons.
The ClassNK Classification Committee also certified that the Society had a total of 7,688 vessels totaling 194,540,871 gross tons on its register at the end of 2011. This represents a net increase of more than 15 million (15,062,787) gt, or a more than 8% increase over the Society's year end figures for 2010.
Reflecting on confirmation of another year of success results, ClassNK Chairman and President Noboru Ueda stated "2011 was a difficult year for the industry, with many feeling the effects of the Great East Japan Earthquake. And yet, thanks to the unceasing efforts of our staff both in Japan and overseas, together with the strong support of the maritime community, ClassNK has managed to once again outdo itself with another set of impressive figures. As a result, the Society remains in a position of dominance as the leading classification society in the world".