Coastguard Surfboats in the Spotlight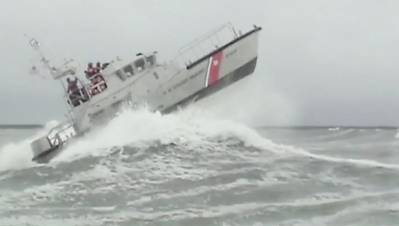 New documentary film features Golden Gate USCG surfboats
Guardians of the Gate: The Surfboats, a documentary by director David Wittkower, gives audiences a peek at a day in the life of Coast Guardsmen at Motor Lifeboat Station Golden Gate in San Francisco.
Most people know little about the missions performed by service members whom Wittkower calls 'the Green Berets of the ocean'.
"The intended audience was the general public," Wittkower said. "But I've been showing the film in a couple places where [Coast Guardsmen's] wives, husbands, siblings say, 'I had no idea my husband [or wife] did that.' "
Wittkower captured search-and-rescue operations, the towing of disabled vessels, and searches for the bodies of jumpers off the Golden Gate Bridge. He also filmed a lot of rough water.
The 47-foot motor lifeboats featured in the film are self-righting and almost unsinkable. The ship is self-bailing, meaning water can be pumped out without electricity.
Even if they flip completely over, surfboats have a buoyant top that allows them to self-right in eight to 12 seconds, according to the Coast Guard.