Cadets Sail on 'Coldest Journey'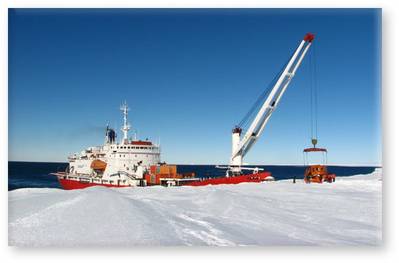 'SA Agulhas', a pioneering South African seafarer training ship with 62 cadets on board supports an Antarctic winter crossing expedition.

The converted 6,132gt polar research and supply vessel, SA Agulhas has left Capetown, South Africa for the final leg of the 'Coldest Journey' expedition to the ice. It also spearheads an ambitious plan to boost South Africa's maritime sector. The ship visited London in December 2012, as part of its charter for the Trans Antarctic Winter Traverse (TAWT) Trust which is fundraising on the journey for Seeing is Believing, a global charitable initiative to tackle avoidable blindness.

South African Maritime Safety Authority (SAMSA), chief executive Commander Tsietsi Mokhele said: 'SAMSA is proud to be part of such a historical journey. The research conducted will benefit the entire world. This is history in the making.'

In partnership with other African countries such as Gambia, Cameroon and Ghana, the voyage by cadets from the South African Training Academy (SAMTRA) marked the beginning of efforts to 'reposition' Africa in the world maritime community. 'By repositioning our maritime efforts, we will assist in the repositioning of our communities — empowering them economically,' commented Cdr Mokhele.
The SA Agulhas is expected reach Antarctica in four weeks, where it will drop off expedition leader Sir Fiennes and his team at base camp Novo, ready for their trek across the South Pole. It will then head back to South Africa, before returning in 2014 to collect the expedition team.

During the 2000 mile journey across the pole, the team will undertake scientific research projects and, using satellite communications, send educational material back to linked-in schools in the Commonwealth, including several in the UK.