Pollet to Lead R&D at Coldharbour Marine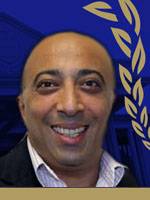 Coldharbour Marine Ltd. has appointed Professor Bruno Pollet to head its R&D department.
Bruno Pollet moves to Linby, Nottinghamshire from the University of the Western Cape, Cape Town, South Africa where he was Professor of Energy Materials and Systems and Director of the National DST Hydrogen South Africa Systems Competence Centre, an industry led R&D group with an emphasis on prototype development and manufacturing.
Pollet's first task will be to recruit and build a strong R&D team of senior engineers and scientists with the brief to optimize and improve the efficiency and performance of Coldharbour's Inert Gas Generators and Gas Lift Diffusion Devices, central to the company's award winning Ballast Water Management System. Prof Pollet aims to attract enthusiastic individuals with outstanding academic capabilities in chemistry, mechanical and marine engineering and microbiology.
Pollet brings to the role a range of expertise and experience in hydrogen and fuel cell technologies. Connected in both academia and commerce, Bruno was formerly Associate Director of the Birmingham Centre for Hydrogen and Fuel Cell Research. His industrial experience includes time with Samuel Banner Ltd (Banner Chemicals Group) and Johnson Matthey Fuel Cells Ltd. He gained his B.Sc. (Hons) in Applied Chemistry at Coventry University and M.Sc. in Analytical Chemistry at the University of Aberdeen. He was awarded Ph.D. in Physical Chemistry at Coventry University. Pollet has published many scientific papers.