Four Times 500 HP for Colombian River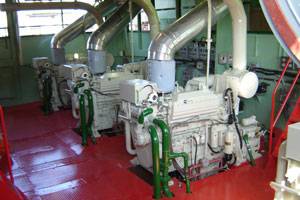 The Rio Magdelena flows north through Colombia to discharge into the Caribbean at Barranquilla. It is navigable for several hundred kilometers above that coastal city. Utilizing shallow draft push boats the Naviera Fluvial Colombiana SA has the capacity to move one million tonnes of oil per year in addition to 700,000 tonnes of general freight. Established in 1920 the firm operates a dozen river push-boats and 78 barges on Colombias inland waterways.

Naviera is the only Colombian river transport company with its own shipyard. At this facility in Barranquilla, at the mouth of the Rio Magdelena, they are able to build and maintain their fleet. Recently, the firm undertook a major refit and repower of their big towboat Sotara. Previously committed to a competitor's engines, the company spent several months analyzing the operation cycle, fuel consumption and maintenance costs before deciding on Cummins engines. In order to maintain a shallow draft with adequate horsepower they chose to install four Cummins KTA19-M3 engines each rated for 500 hp at 1800 RPM. The engines were purchased from Cummins de Los Andes, the distributor for Colombia.

With a length of 131.2 ft, the push boat carries a beam of 39.4 ft, which allows ample space for mounting the four engines, and helps maintain the 6.5-ft draft. Cummins Andes application engineer Alfredo Cardenas worked extensively with Naviera Fluvial engineers on the successful installation of the Sotaras new heat exchanger-equipped, turbo-charged and after-cooled engines.