Yanmar Launches Commercial High-Speed Engines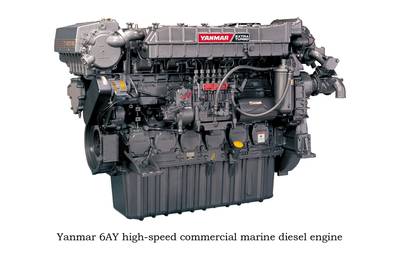 Yanmar America Corporation of Adairsville, Georgia, has introduced a range of propulsion and auxiliary power High-Speed Commercial Workboat diesel engines.
Offered in models from 350 to 1,800 hp (257 to 1340 kW), these powerplants open new commercial business opportunities throughout North and South America. Yanmar already dominates the commercial marine diesel engine sector in Japan and other Asian markets. The Yanmar high-speed diesel engines deliver the same renowned reliability, durability and efficiency for which Yanmar is known. Compliant with the latest IMO Tier II emissions regulations, they have type approval by the six major classification societies. Offering easy installation and simple maintenance, these high-speed Yanmar diesels are suitable for commercial applications ranging from offshore support vessels to fishing craft, ferries, tugs and other workboats.

"We have already sold a number of these high-speed commercial engines to operators in Panama for workboats, and in Venezuela and Trinidad for use in the oil fields," said Tom Watson, Yanmar's marine division manager. "We are again proving that Yanmar is the engine of choice when reliability, durability, and fuel economy count."