BAE Systems Targets Commercial Repair Market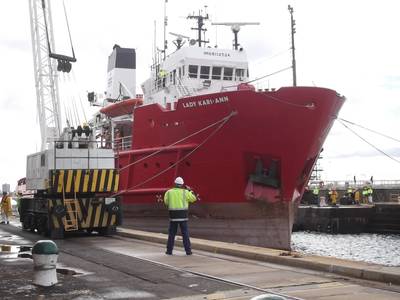 BAE Systems recently completed a four week repair docking for the platform supply vessel (PSV) the 'Lady Kari-Ann' in its Williamstown shipyard.
Owned by Farstad Shipping, the Lady Kari-Ann is the first commercial ship repair project undertaken in the yard since 2009. Work on the vessel included a 30-year survey, paint work on the hull, superstructure and tanks as well as underwater valves and other mechanical work associated with the ship's propulsion. Director of BAE Systems Maritime, Bill Saltzer, described the project as major push by the company to re-enter the commercial ship repair business at Williamstown. "The PSV operator market is highly competitive and the ships need to be available to provide services to their customers. For this reason, operators demand that docking periods are as short as possible," he said.
The Lady Kari-Ann is a multi-purpose offshore platform supply vessel with a gross tonnage of 1 924 tonnes and a length and breadth of 60m X 17m. Vessels of this type are the main platforms used for transiting cargo, equipment and supplies to oil platforms located in East Gippsland Victoria. Mr Saltzer said BAE Systems had invested heavily in both its Williamstown and Henderson (WA) yards and in its people to develop the types of skills that are critical to successfully competing in the commercial shipbuilding and maintenance market. "The industrial capability at Williamstown and Henderson to support these projects has taken a great deal of time and investment to develop and it will be critical to our future success in the naval and commercial markets," he said.
"In addition to repair work on commercial vessels, BAE Systems is currently working on major defence projects such as the Landing Helicopter Docks (LHDs) which will be the largest naval vessels ever to be commissioned into the Royal Australian Navy fleet, blocks for Air Warfare Destroyers and upgrades to the ANZAC Frigates that were originally built in Williamstown. Farstad Shipping is the largest ship operator in Australia with 27 vessels. The majority of its vessels are located in the burgeoning LNG region in the northern part of Western Australia. In Victoria, Farstad operates five vessels including the 'Lady Kari-Ann'.