Harris Pye Completes Brazilian Offshore Project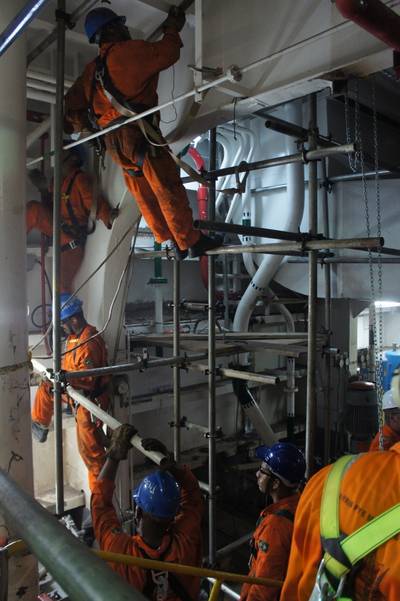 In just 90 days, the Harris Pye Group successfully completed the survey and upgrade of Diamond Offshore Drilling Inc's (DODI) dynamically positioned drillship, the Ocean Clipper. All work was completed within schedule.

Totalling 247,235 man hours and utilising a 600-plus workforce, the contract was one of the largest offshore oil and gas projects for the South Wales headquartered company. Despite the time-critical schedule, extraordinarily high man hours and large workforce, safety standards were superb and there were no serious accidents or injuries to any personnel. The upgrade encompassed accommodation, cranes, steelwork (for which 250 tons of steel were supplied); major pipe renewal in excess of 2 miles (3225metres) of piping); painting; and the removal and replacement of transformers and motors; and four major electrical tasks along with many other, not necessarily less complex, but smaller electrical tasks. Activity was split between dry dock and alongside.

A highly comprehensive list of tasks successfully completed within a tight schedule:

• New watertight door status indication panels
• Power supplies to two new mud transfer pumps
• Change out of galley transformers (additional to other transformer tasks)
• Switchboard cleaning
• New power supply to bow crane
• New power supply and communications to Seatrax crane
• Power supply to new accommodation module
• Disconnection and re-connection of several HVAC units
• Installation of transformers and distribution boards for the new electrical room (again in addition to other transformer task)
• Installation of mud agitator panels, associated junction boxes, level sensors and all power and control cabling
• Modifications to wiring of A/C compressor and air handler cabling
• Disconnection and re-connection of all four propulsion motors
• And a number of smaller tasks to assist our client.

"In total we used upwards of 60 electricians, through day and night shifts to complete all tasks as required. We also had a small team of men who continuously maintained all of our temporary supplies to transformers, welding sets, lighting etc." Non-electrical tasks undertaken (some naturally overlap with the electrical) provide further insight into the complexity of the time-constricted contract:

• Hydro blasting and painting of the outside hull, sponson tanks ballast tanks, mud tanks and moonpool area, and various other areas around the vessel
• Structural conversion of the existing flume tanks to mud pits, including installation of agitators, mud mixing and transfer pumps, new mud pipelines; and fabrication and installation of a new mud gas separator
• Fabrication of new crane pedestals and crane boom rests, and the removal of old cranes and installation of replacements
• Hull removals of the sponson tanks in order to remove old electrical transformers, and install new transformers. This included removal, repair and re-installation of the main propulsion motors
• Removal, overhaul by 3rd party and re-installation of vessel thrusters motors
• General dry docking works such as propeller works, tail-shaft works, rudders, sea valve overhauls, and anode renewals
• Fabrication and installation of stainless steel pipework for new hydraulic pressure unit and upgrade of ancillary equipment
• Steel renewals and modifications in all relevant areas such as sponson tanks, main deck, rig floor, ballast tanks, flume tanks and accommodation modules
• Piping fabrication and renewals/installation of high pressure piping systems, and sea water cooling systems
• Accommodation refurbishment of the mess room, cabins, and alleyways
• HVAC (heating, ventilation, air conditioning) upgrades that included the removal of old, and installation of new, air handling units
• Management and co-operation with 3rd party suppliers
Originally built by Mitsubishi in 1977, Ocean Clipper has a rated drilling depth of 25,000ft and, in 1999, made a name for herself by setting a new record in the Gulf of Mexico in more than 7,200ft of water – she is rated to 7,900ft. She currently has a five-year commitment to Petrobras.