GLS Completes 1st Canadian Repair Contract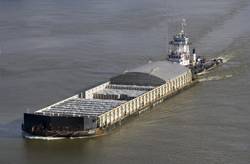 Great Lakes Shipyard Completes First Repair Contract with a Canadian Tug-Barge Company.
McKeil Marine of Hamilton, Ontario contracted Great Lakes Shipyard to provide winter layup and repair work on their tug and barge, John Spence and Niagara Spirit. The Shipyard completed general steel work on both the tug and barge and installed a winch system for the cover of the Niagara Spirit. The completion of this contract marks the first major repair contract that Great Lakes Shipyard has had with a Canadian company.

Great Lakes Shipyard, a division of The Great Lakes Towing Company, operates a full-service shipyard specializing in new construction, repairs, and modifications of all types of vessels and barges. The Shipyard is currently undergoing a major expansion that includes a new state-of-the-art 770-ton Marine Travelift; the largest on the Great Lakes, second largest in the Western Hemisphere, and the third largest in the World.
The Shipyard's recent projects include conversion of the Z-drive thrusters on Interlake Steamship Company's Tug Dorothy Ann from fixed-pitch to controllable pitch and also the construction and delivery of a 60-foot work boat for the Port of Milwaukee, Wisconsin. The shipyard is currently under contracts with SEACOR Holdings, Inc for the construction of two state-of-the-art ASD tractor tugs.