GPA Completes 254L AHTS Series Delivery with 54th Hull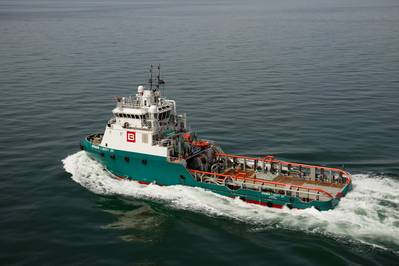 Earlier this year, Naval Architecture and Marine Engineering firm Guido Perla & Associates, Inc. (GPA) completed a major milestone with the delivery of the final of 54 GPA 254L AHTS vessels, also known as the Bourbon Liberty 200 series, at Zhejiang Shipyard in China.
In 2006, BOURBON Offshore placed an order with GPA for the Basic Design and Contract/Regulatory Package for 26 of these identical vessels. In 2007, the order was expanded by an additional 28 vessels. Designed and tailored specifically to BOURBON's requirements, this extensive range of new-generation vessels supports the replacement market of technically obsolete offshore vessels worldwide.
As one of the global leaders in the design of modern offshore vessels with over 140 vessels in service or under construction for various operators, GPA brought an extensive level of knowledge and experience to this long-term project, setting a high value on technical and economical benefits to both the operator and shipyard. GPA's expertise, coupled with BOURBON's understanding of offshore operations, resulted in a design characterized by optimized cargo capacity, improved fuel consumption, ease of maintenance, redundancy, excellent maneuverability and highest safety and offers a revolutionary shift to the operations in the offshore market.
Efficiency was optimized by outfitting the GPA 254L AHTS series with some of the major equipment also utilized on the GPA 654M PSV (BOURBON Liberty 100 series), various versions of the GPA 670 PSV, as well as the GPA 696 IMR (BOURBON Evolution 800 series), totaling an additional 50 vessels Bourbon had constructed at Sinopacific's yards Zhejiang and Dayang in recent years.
Several years ago, GPA pioneered the concept of locating the engine room on the main deck, fully utilizing the flexibility and benefits of a diesel-electric propulsion system. The concept has since been implemented on numerous vessels worldwide, including the GPA 254L AHTS series. The concept increases the cargo capacity below deck by about 30% while, at the same time, the diesel-electric system offers a high degree of flexibility in terms of power management, allowing to bring on power in small increments to keep the engines at appropriate loadings, operating at their highest efficiencies. Thus, fuel consumption and CO2 reject are reduced by 20-30% compared to conventional systems.
An additional benefit of the concept is the notable reduction of noise and vibration levels in the accommodation areas, achieved by adding that extra deck level of attenuation between the accommodations and the bow thrusters and anchor handling equipment, two of the prime contributors to noise onboard these types of vessels.
The DP-2 certified system, with two azimuth and one fixed stern thrusters and two bow thrusters, allows for redundancy and increases the safe operating parameters for this modern AHTS. Even in the event of failure in the control or propulsion system, GPA designed the vessel to be able to safely maintain precise position in close proximity to offshore facilities for anchor handling operations or cargo offloading. The oval tank design for liquid products, coupled with a faster and automated cleaning system, enables optimized loading and transfer operations.
In addition to operational performance benefits, GPA's design also offers an extremely economical, cost-efficient solution due to certain simplified construction methods. GPA maintains a successful track record of designs following these proven standards, mainly single-curvature hull forms and other structural arrangements, such as transverse framing and flanged plate framing. This combination enables shipyards to build more vessels in less time in a cost-efficient manner, which was crucial to the success of the GPA 254L AHTS series with a delivery cycle of approximately three weeks.
The GPA 254L AHTS, providing accommodations for 22 crew members, bears the class notation ABS, +DPS-2, SOLAS, FFV1, +AMS, +AH, Towing Vessel and Offshore Support Vessel. While these characteristics provide for an excellent vessel for deepwater offshore operations, BOURBON mainly operates the series in the continental offshore arena, bringing deepwater vessel technologies to shallow water operations. However, the vessels' adaptability also allows for operations outside the oil and gas sector. One of the vessels was recently deployed in the offshore wind market, installing a semi-submersible wind turbine off the coast of Portugal at Aguçadoura for Portuguese utility provider EDP. GPA sees the growing offshore wind market as an attractive opportunity in the near future, considering the activities of a GPA-designed vessel in that market as a first step in that direction.
"To accomplish the project requirements, GPA integrated good design engineering practice with production engineering and shipyard collaboration. We put significant effort into this project and worked closely for several years with the yard, owner and equipment suppliers to achieve our objectives. We take pride in being a part of this well-known series and are pleased to see it completed successfully," concludes Jeff Horner, General Manager of GPA China.