Damen Completes Seismic Vessel Repairs on Time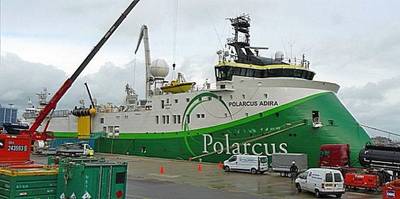 Seismic Vessel 'Polarcus Adira' visits Damen Shipyards, Den Helder for repair, modification & installation work.
Damen Shiprepair Den Helder (The Netherlands) was awarded the contract for modification work on the 'Polarcus Adira' operated by Dubai-based Polarcus, which operates one of the world's largest seismic vessel fleets.

The vessel arrived on berth at Den Helder for insulation and lighting works in the Seismic Control Room; delivery and installment of Barovani Stands & Reel Frames; and rerouting cables and pipelines of the AC unit in the Engine Control Room. 

Despite bad weather (heavy rain and storm) the job was completed within the 80-hour timeframe, with the shipyard team working in two 12-hour shifts.

Polarcus operates an ultra-modern seismic fleet incorporating advanced maritime and environmental features and capable of operating in the most challenging conditions. They offer a full range of services from classic 3D/4D seismic, wide and multi-azimuth projects, to Arctic frontier operations.

Damen Shipyards Den Helder (DSDH) performs ship repair, maintenance and newbuilding activities at both their Den Helder and Texel island yards for several markets, including the offshore, fishing and naval industries.