HB Rentals Completes Trinidad Offshore Work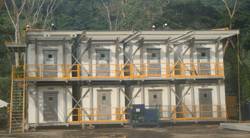 Offshore accommodation specialist, HB Rentals, a Superior Energy Services company, has completed an eight-building and heliport package on a fixed platform in offshore Trinidad, Jude Primeaux Director of International Operations announced.

The 12-month project included the construction of three 12-man sleepers, a galley, diner, office, laundry room, company man office, and heliport with a fire suppression system. HB Rentals also provided stairs and platforms for the building package. At the customers' request, HB Rentals completed an onshore mock up and test fit of the entire package including the heliport and fire suppression system prior to shipment.

"At HB Rentals we will go the extra mile to ensure that we exceed the expectations of our clients," said Primeaux. "In this case it meant completing a trial run of the package on land." HB Rentals is the world's largest supplier of temporary onshore and offshore accommodation modules, operating from three major global hubs in Broussard, La.; Aberdeen, Scotland; and Singapore. Visit www.hbrental.com.