TSAKOS Announces The Completion Of Sale Of The Aframax Tanker Opal Queen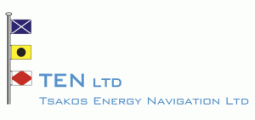 ATHENS, GREECE – March 24, 2011 - Tsakos Energy Navigation Limited ("TEN" or the "Company") (NYSE:TNP) today announced the delivery of the 2001-built aframax tanker Opal Queen to her new owners. The capital gain of over $5 million while the free cash of over $16 million from this sale will be recorded in the first quarter of 2011, while the free cash to be generated will be used for future vessel opportunities.

George Saroglou, Chief Operating Officer, said "Sale & Purchase activity is an integral part of TEN's operations that has generated close to $280 million in capital gains. The transaction displays the Company's ability to supplement its profits through sales and project its reputation of having a fleet with superior technical characteristics that appeal to prospective buyers of vessels. We wish the vessel's new owners safe and profitable voyages".

Source: TSAKOS