24M Catamaran Passenger Ferry Nearing Completion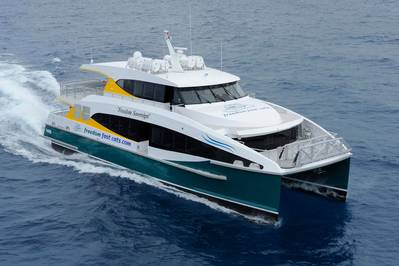 Incat Crowther announced that a 24m Catamaran Passenger Ferry under construction at Aluminium Marine in Brisbane, Australia has left the shed.

This vessel is available for immediate sale, and can be customized to suit the operator's requirements. Itis suitable for commuter service, day cruise operations or crew transfer.

Built to Aluminium Marine's consistently high standard, this vessel follows in the wake of Fantasea Sunrise, Freedom Sovereign and Riverside Avalon. This new generation of 24m passenger vessels has set new standards of performance, efficiency and seakeeping.

The vessel's contemporary, sophisticated look commends it well to high profile tourist operation, whilst below the skin the vessel is extremely rugged and versatile.

The vessel is fitted with a pair of Yanmar 6AYM-GTE main engines, and is capable of speeds in excess of 28 knots. The vessel will efficiently and comfortably operate at a service speed of 25 knots.

The vessel is available on short notice. To enquire about the vessel, please contact Incat Crowther's Sydney office or Aluminium Marine.