Maritime Security West Conference Underway in Tacoma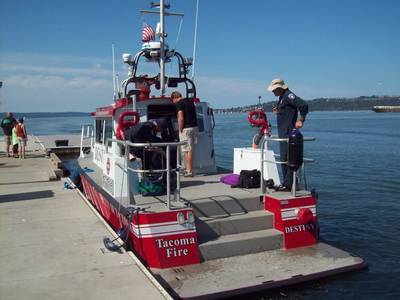 On water and in the air, maritime security involves local, state and federal stakeholders

The 2014 Maritime Security West conference is underway in Tacoma, Washington.

The preconference day included tours of the Port of Tacoma, the City of Tacoma's Marine Security Operations Center and the opportunity to view and ride a large number of tactical craft belonging to local police, sheriff fire and rescue departments at the Foss Waterway Seaport moorage. King County Sheriff's Department gave a flying demonstration of the airborne tactical extraction platform (AirTEP). SeaBotix provided a demonstration of a remotely operated underwater vehicle.

The delegates were welcomed by City of Tacoma Mayor Marilyn Strickland, and Clare Petrich, president of the Port of Tacoma Commission before hearing the keynote address by Rear Admiral Richard T. Gromlich, who commands the U.S. Coast Guard Thirteenth District. Also presenting was Capt. Joe Raymond, commander of Coast Guard Sector Puget Sound.

Speakers addressed the conference theme of resilience, to include the challenges of dealing with earthquakes, tsunamis and transshipment of hazardous cargoes.

A significant number of exhibitors are presenting their products and services, including boats, propulsion systems, shock mitigation systems, sensors, communications and other solutions. The "gold sponsors" include Terma, DMT, the Mariner Group and SAP National Security Services.

A panel led by Jonathan McEntee, deputy director for the Borders and Maritime Division of the Department of Homeland Security Science and Technology Directorate discussed the DHS S&T Coastal Surveillance System Enterprise and the directorates goal of increasing security while improving the flow of commerce.