MTU Showcase Power at OTC Houston Conference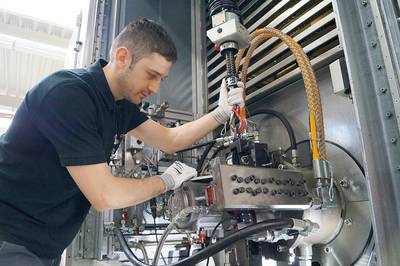 MTU America Inc. says it is showcasing several MTU engines and complete system solutions at the 2014 Offshore Technology Conference (OTC), May 5-8 in Houston. They explain that their products for the oil and gas industry are developed for both onshore and offshore applications, including electric drives for stationary and mobile power generation and mechanical drive engines used in pressure pumping (fracking), well service support and emergency fire water pumps.
MTU highlight two of their exhibits:
First is MTU's new Bi-Fuel Kit, which is displayed on the MTU 12V 4000 S83 engine. This new system employs an integrated bi-fuel control architecture designed specifically for well service and pressure pumping (frac) applications. The MTU Bi-Fuel Kit enables operators to utilize natural gas as a fuel source for their diesel-powered equipment, thus providing a solution to significantly reduce fuel costs. The Bi-Fuel Kit will soon be available for new or existing MTU 12V 4000 S83 engines.
Second is the MTU Frac Pack, a powerful solution for hydraulic fracturing applications. The Frac Pack is powered by the MTU Series 4000 T95, which is available in a 12-cylinder configuration that offers three power ratings: 1678 kW (2250 bhp), 1864 kW (2500 bhp) and 1939 kW (2600 bhp). In the Frac Pac the T95 is coupled with the new ZF 8TX transmission, which OTC attendees will have the opportunity to view in both the MTU and ZF booths.

MTU add that the T95 engine is also available as a loose engine in a 16-cylinder configuration with a power output of 2237 kW (3000 bhp). It is engineered to achieve EPA Tier 4 final emissions standards utilizing advanced internal engine technology, eliminating the need for any aftertreatment.

More information about OTC 2014 is at: http://www.otcnet.org/2014/