Conquest at Work in Flushing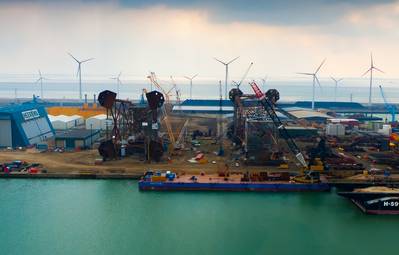 Conquest MB I, a 1,500-ton offshore heavy lift crane barge from Conquest Offshore worked (off)loading at the quay of Heerema, Flushing, the Netherlands.


When changing from 400t, 800t to 1,600t hook block there is no need to change wires, blocks or sheaves. The blocks enables custom reeving for every project, being able to create lifting speeds up towards 1.5 meters per second.


The swing system is powered by eight 22kW electrically driven motors operated through 2x2x2x2 left-right switch basis. The crane's speed control with frequency drive by Sinamics, Siemens, keeps a continuous active drive with a swing speed of one degree per second.

The barge itself is equipped with an accurate and fully automated ballast and trim (anti-heeling) system with ballast pumps (two 800 m3/h) and trim pumps (four 1,000 m3/h and 2x 2,000 m3/h) to keep the barge balanced within 0.3 degrees of list during lifting of heavy equipment and (off)loading of the barge.

The 136m x 36m x 8m barge has a free deck space of 3,700 m² for 9,000 t of cargo and a permissible deck strength of min. 20 ton / m².

Principal Particulars:
• 136 x 36 x 8m heavy duty barge
• Total deck space – approx 4900 m2
• Total free deck space for cargo - 3700 m2
• Deck strength of 20 ton/m2
• Fully automatic ballast (anti heeling) system
• 1500 metric ton lifting capacity
• Dynamic Load System (DLS)
• 63m (207ft) heavy duty double boom
• 75m (246ft) runner hoist
• 97-124 m (318-400 ft) long single boom