Tideland Consortium Combines to Provide Wind Farm Service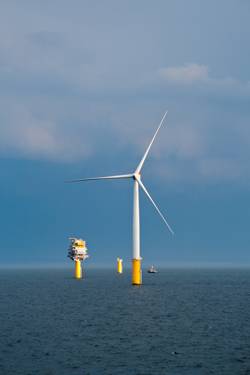 Tideland Signal, Dabbrook Services and Tranberg Systems of Denmark have joined forces to present a comprehensive service for specifying, supply and installation of navigation warning systems and all other low-voltage equipment on offshore wind farms on stand 321 at Global Offshore Wind, ExCel London from 13 to 14 June.

Tideland Signal is a leading global supplier of navigational aids and solar power systems to the world's ports, harbours and offshore industries, while its sister company, Dabbrook Services Ltd. specializes in the installation of photovoltaic and other electrical systems offshore. Tranberg Systems, part of Norwegian based Tranberg AS, is also a long-standing associate of Tideland Signal and has extensive experience of the offshore power industry. Among the team manning the stand will be Søren Larsen of Tranberg, Ian Burgess of Tideland and Stuart Smith of Dabbrook..

The Tideland/Dabbrook/Tranberg offering covers everything from the specification, sourcing and supply of all low-voltage equipment required on offshore wind turbines, to project management, installation, maintenance, testing and certification. In addition to safe marking of offshore wind farms to protect against collisions and accidental damage caused by shipping, the consortium also supplies and installs a complete range of other low-voltage equipment, including power supplies, general lighting, aviation lights and winches.

The Tideland range of warning systems includes lanterns, fog signals, fog detectors and monitoring systems, all compliant with the requirements of the International Association of Marine Aids to Navigation and Lighthouse Authorities' new recommendations O.139 edition 1 of December 2008 covering the the marking of man-made offshore structures, which recommends that "consideration should be given to the use of synchronised lighting, different light characters and varied light ranges" and draws attention to the danger of interfering with shipborne and shore-based radar installations.

All Tideland systems can be solar-powered and may be conformed as highly sophisticated, remotely-monitored systems or simpler installation which can also be controlled from a remote, on-shore location. Tideland LED lanterns require little maintenance, offer minimal power consumption and an operating life in excess of 50,000 hours. The company has many years' experience protecting offshore installations of every type around the globe, including the UK's largest offshore wind farm to date at Lynn and Inner Dowsing in the Greater Wash, off the Lincolnshire coast.