Tall Ship 'USS Constitution' Fires 21-Gun Salute, Boston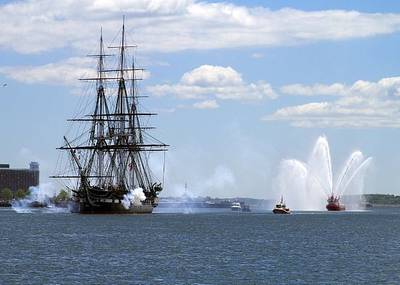 'USS Constitution' honors both Boston First Responders and the Battle of Midway with a 21-gun salute in Boston Harbor.

During the ship's first underway this year a special tribute was paid to first responders to the events surrounding the April 15 Boston Marathon bombings and to commemorate the 71st anniversary of the Battle of Midway, June 4.

More than 375 guests accompanied the 215-year-old Constitution on the commemorative underway, including first responders from the FBI, City of Boston Fire, and Police Departments, Massachusetts State Police Department, MBTA Police Department, Watertown Police Department, Massachusetts National Guard, and medical responders from Massachusetts General Hospital, Boston EMS, and Boston Medical Center.


The three-hour underway tour through Boston Harbor featured a wreath-laying ceremony in honor of Battle of Midway and Boston Marathon bombing victims, along with a 21-gun salute off Fort Independence on Castle Island in South Boston, and an additional 17-gun salute near U.S. Coast Guard Base Boston prior to 'Old Ironsides' return to its pier at Charlestown Navy Yard.

Constitution Sailors also hoisted two flags displaying 'Boston Strong' that were flown atop two of the ship's masts during the majority of the underway, which were eventually hauled-down and signed by first responders on the spar deck of 'Old Ironsides'.


USS Constitution, the world's oldest commissioned warship afloat, actively defended sea lanes against global threats from 1797 to 1855. Now a featured attraction on Boston's Freedom Trail, Constitution and her crew of U.S. Navy Sailors offer community outreach and education about the ship's history to more than 500,000 visitors each year.