GIMF Completes Construction of New Liftboat, The Bellator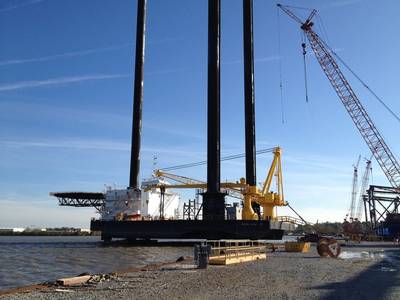 Gulf Island Marine Fabricators (GIMF) has just completed construction of a new liftboat, The Bellator, for C.S. Liftboats, Inc, Abbeville, La. The Bellator is ABS Classed A-1, AMS, and Mobile Offshore Unit.

The new boat, designed by A.K. Suda Inc. Metairie, LA measures 150'x118'x12'-8" and carries accommodations for 46 people. The new liftboat features three 300-foot legs with a working depth of 235 feet and a maximum deck elevation of 282 feet above the mud line. The Bellator has 9,600 square feet of cargo deck space, a RAM 250-ton crane with a 130-foot boom and a RAM 40-ton crane with a 70-foot boom. The Bellator's helideck, a landing deck for helicopters on ships, has a diameter of 17 meters and is located on the vessels stern. Capacities include 35,750 gallons of fuel oil and 11,800 gallons of fresh water.

Main propulsion comes from two Caterpillar C32 DITA Tier 2 Diesel Engines, producing 1,000-hp each, which gives the new liftboat a cruising speed of 5.5 knots. Two Caterpillar C9, 250-kW gensets, handle the ship's service power. There is a Caterpillar C4.4, 95-kW emergency generator. In addition, twin CaterpillarC32 DITA Tier 2 gensets will produce 625 kW of electrical power each to handle the jacking system and power a 500-hp Rice Propulsion bow thruster.

The Bellator boasts of the shortest towers of any vessel of its size. That allows for more of the leg to be usable as opposed to being lost in the towers. The 300-foot legs end up with capabilities similar to a vessel with legs that are 15-20 feet longer.