Pskov Gas Carrier Construction Nears Completion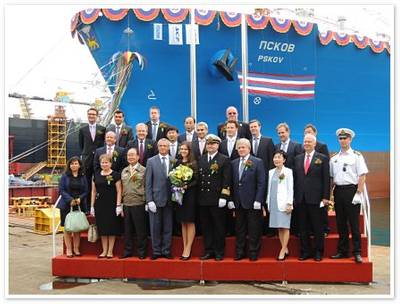 On August 25, 2014, the naming ceremony for the Pskov high-tech liquefied natural gas (LNG) carrier was held at the South Korean shipyard STX Offshore & Shipbuilding.

The ceremony was attended by Aleksander Medvedev, Deputy Chairman of the Gazprom Management Committee, Evgeniy Ambrosov, Senior Executive Vice-President of OAO Sovcomflot, Nikolay Grigoriev, Director of Global Shipping & Logistics of Gazprom Marketing and Trading, representatives of the management of STX Offshore & Shipbuilding yard, Konstantin Vnukov, Ambassador of the Russian Federation in the Republic of Korea, Aleksander Vostrikov, Consul-General of the Russian Federation in Busan, and other public officials. Pavel Shikhov, COO of RS, participated in the ceremony on behalf of Russian Maritime Register of Shipping (RS).

Pskov is the second vessel in a series of state-of-the-art ice class Atlanticmax gas carriers with membrane cargo tanks and a total capacity of 170,000 cubic meters. The series is being built under the RS survey. RS class notation: KM ✪ Ice2 AUT1 OMBO EPP ANTI-ICE LI CCO ECO-S WINTERIZATION(-30) gas carrier type 2G (methane).

The new gas carrier's equipment is designed to operate in low temperatures (down to –30 °С), and will enable the vessel to carry gas all year round to almost any destination in the world. Upon construction of the vessel, measures were taken to reduce the risk of environmental pollution. The Pskov will be handed over to the customer on 29 August 2014. It will start its first voyage on the route Nakhodka, Russia - Incheon, Republic of Korea.

The vessels in this series are being built at the request of OAO Sovcomflot within the framework of long-term agreements with the Gazprom Group of Companies and are the largest vessels in the Gazprom fleet. The lead vessel of the series - the Velikiy Novgorod - is currently successfully transporting LNG.