Final Consultation for Dogger Bank Creyke Beck Begins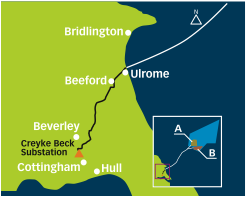 Offshore wind consortium, Forewind's second and final stage of consultation for its first offshore wind energy development, Dogger Bank Creyke Beck begins Friday, April 19.

The consultation, which starts with the publication of documents, plans and maps about the proposed development, will run until Tuesday, June 11 and will include a series of public events to be held in venues along the proposed cable route, from the coastal village of Ulrome to Cottingham, in the East Riding of Yorkshire.

Dogger Bank Creyke Beck will comprise two offshore wind farms each with a generating capacity of up to 1.2 gigawatts (GW). In total it will be up to 2.4 GW and could comprise a maximum of 600 turbines, depending on the size of turbine selected. It would generate around eight terawatt hours (TWh) per annum, or almost enough green energy to power all the homes in the Yorkshire and Humber region every year.

This consultation is the culmination of more than three years of environmental impact assessment work including onshore and offshore surveys, consultation and reviews. The documents published include the draft Environmental Statement and a Non-technical Summary giving an overview of the proposed development and of all its potential impacts.

Forewind Stakeholder Manager, Nikki Young said it is the main opportunity for statutory consultees, key stakeholders and members of the public to view and comment on the proposals before the consent application is submitted.

"Through this consultation, we aim to gather views and feedback on the proposals, and give those with an interest in the project an opportunity to influence the way Dogger Bank Creyke Beck is developed," she said.

The six public events in May will enable stakeholders, in particular the local community living near the proposed cable route, to learn all about the proposed project and respond with comments and opinions. Forewind staff will be on hand throughout to answer questions and discuss the proposals with visitors.

"The consultation documents will be available at the public exhibitions, which all stakeholders are urged to attend," she said.

The events are on as follows:

Ulrome Rickaby Hall
Main Street, Ulrome
YO25 8TP Tuesday,
May 7 2pm – 7.30pm

Beeford Community Center
Main Street, Beeford
YO25 8AY Wednesday, May 8 2pm – 7.30pm

Bridlington Spa
South Marine Drive, Bridlington, YO15 3JH Thursday,
May 9 11am – 6pm

Beverley Arms Hotel, Westwood Rooms
25 North Bar Within, Beverley, HU17 8DD Friday,
May 10 2pm – 7.30pm

Cottingham Civic Hall
Market Green, Cottingham, HU16 5QG Saturday,
May 11 10am – 4.30pm

St Stephens Shopping Centre
110 Ferensway, Kingston Upon Hull, HU2 8LN Sunday,
May 12 10am – 4.30pm

Forewind's consultation documents will be available to view at local libraries during the consultation period, and to download from www.forewind.co.uk along with electronic feedback forms.

Responses can be submitted in person at the public exhibitions, by email, to our Freepost address or by calling Forewind on Freephone 0800 975 5636.