Fully Loaded Container Barge Ablaze Off Bahamas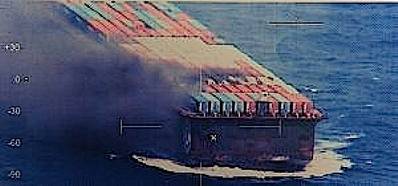 The US Coast Guard inform that search and rescue personnel at the District Seven Command Center in Miami are coordinating fire-fighting efforts on a towed 730-foot barge loaded with containers on fire about 86-miles northeast of Nassau, Bahamas.

The Command Center received a call from the 127-foot tug Patriarch, reporting that a fire had started among cargo containers on the the barge. The Coast Guard considered that there is no threat to the general population or the seven crewmembers aboard the Patriarch at this time.
The tug and tow are en route to Nassau, Bahamas so as to access commercial salvage and fire fighting capabilities.

The Coast Guard Cutter Robert Yered has been diverted to the area to assist with search and rescue efforts if necessary.

An HC-144A Ocean Sentry aircraft crew, from Coast Guard Air Station Miami, is monitoring the vessel and the extent of the fire.

The Coast Guard add that the Robert Yered is a 154-foot fast response cutter homeported in Miami Beach, Miami.