Ultra Filter Pads for Effective Spill Containment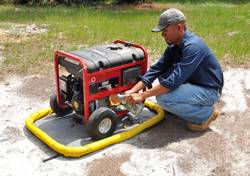 Capture Oil, Gas and Other Hydrocarbons While Allowing Clean Rainwater To Flow Through.
Use Ultra-Filter Pads on construction sites, oil fields and other areas where spill containment is needed but shelters or structures are not available to keep rain water out. Polyethylene and PVC construction is lightweight but durable and folds for quick and easy storage or transport. Replaceable Ultra-X-Tex® liners quickly capture oil, grease and fuel leaks and spills. The material allows clean water to pass through while filtering out any hydrocarbons. Two-inch, foam sidewalls provide structure and help contain stormwater during periods of quick or large amounts of rainfall, ensuring the liner has ample filtering time.