Arctic Oil Spill Contingency Plan Devised by Students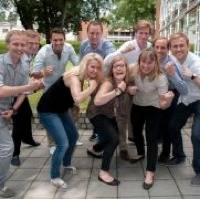 DNV's summer students present results of work to develop a realistic concept for a year-round Arctic oil spill response system.
The Norwegian students' project included requirements for people, vessels and equipment.
DNV's summer project is an annual programme organised during the summer months for students in their final year of a master's degree programme. This year, ten students with varied cultural and academic backgrounds worked intensely on their project for seven weeks. The focus has been on developing an Arctic oil spill response system.
The cornerstone of the concept is a multifunctional concept vessel – the Boreast – capable of performing oil spill response tasks in the Arctic.
"We presented a realistic, innovative Arctic oil spill response system we have called the AURORA – Arctic United Response Operation and Recovery Agreement – combining new ideas and fresh insight," explains project manager Martin Andestad.
"We know that the world needs more energy. And we know that much of this energy is located in unfriendly and vulnerable areas of the world. Adequate oil spill response systems are therefore of vital importance. These are complex issues that the world's leading scientists, researchers and engineers spend considerable time and resources on. So I am impressed by what these ten students have been able to process and produce during seven short summer weeks," says DNV's CEO Henrik O. Madsen.