Moose Boats Awarded New Contract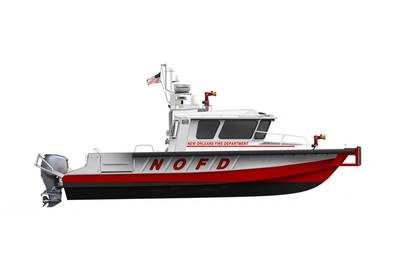 Moose Boats Awarded New Contract for City of New Orleans CBRNE Fire Rescue Vessel.

Moose Boats, a boat designer and manufacturer in the San Francisco Bay Area, has been awarded a new contract from the New Orleans Fire Department for the construction of a M3-36 Monohull CBRNE Fire Rescue Boat. The M3 is a new product line for Moose Boats and incorporates the builder's established design and quality reputation in a more compact platform than the M1 and M2 Catamaran Vessels.

The M3-36 is a 36'-6" aluminum monohull powered by twin Yamaha 350hp four stroke outboard engines. The vessel will provide New Orleans Fire Department with fire fighting, rescue, dive and security capabilities. The M3-36 will be equipped with a dedicated 1,500GPM fire pump, dual remote control fire monitors, foam capabilities and a positive pressure CBRNE air filtration system.

The New Orleans Fire Department vessel will be outfitted with a sophisticated navigation and communications suite, thermal imaging camera and an array of threat detection equipment. New Orleans Fire Department Contract Oct. 2011 Page 2 Moose Boats has constructed several fire fighting vessels for agencies throughout the United States including Tiburon Fire Rescue District and San Francisco Fire Department in California, Old Saybrook Fire Department in Connecticut, Lewes Fire Department in Delaware, Anne Arundel County in Maryland, Massport Fire/Rescue at Boston Logan Airport and Northport Fire Department in New York.