Topaz Awarded $100m EPC Contract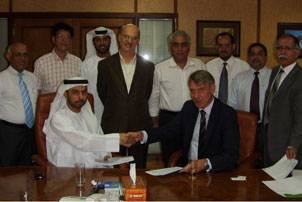 Topaz Engineering, a division of Topaz Energy and Marine has been awarded a $100m EPC contract for the Phase IV Oil Storage Terminal for client GPSChemoil in Fujairah, U.A.E.

Through its subsidiary, Nico International Hydrospace, Topaz Engineering has won one of the major tank terminal repeat contracts in Fujairah for GPSChemoil, a partnership between Gulf Petrol Supplies LLC (GPS) and Chemoil. The 580,000 m³ terminal is one of the largest EPC tank terminal projects awarded to Topaz Engineering in the recent past in terms of project value and terminal size. The fully automated storage terminal is equipped with a facility for loading and receiving middle distillates, gas and fuel oil from shipping berths at OT1 and OT2 via eight loading and receiving pipelines running from the jetties to the terminal.

The scope of work, which is expected to take almost two years to complete, includes complete engineering, procurement of all materials, tanks and critical equipment, and the construction of the entire tank farm. Work will also extend to commissioning and hook up to the existing facilities of the Port of Fujairah and the GPS terminal.