Port of Long Beach Awards Bridge Contract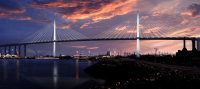 Harbor Commission awards bridge design-build contract, final engineering to start, construction begins 2013
The Long Beach Board of Harbor Commissioners has approved a $649.5 million contract with a joint venture team headed by Shimmick Construction Co. Inc., FCC Construction S.A. and Impregilo S.p.A. (SFI) for the design and construction of a replacement for the Port of Long Beach's obsolete and deteriorating Gerald Desmond Bridge.
Final design and engineering will begin shortly, and construction of the new bridge is to start in 2013 and is scheduled for completion in 2016.
The bridge replacement — designed to ease traffic congestion and improve safety — is being jointly procured by the Port and the California Department of Transportation. Caltrans, Los Angeles County Metro, the Port and the U.S. Department of Transportation are contributing funds to the project.
The Gerald Desmond span, which opened in 1968, is a major commuting route for the region, and a major trade corridor, carrying 15 percent of all containerized cargo imported to the United States. The bridge connects Terminal Island, the heart of the port complex, with the Long Beach (710) Freeway as well as downtown Long Beach.
The SFI joint venture — which in addition to Shimmick, FCC, and Impregilo includes subcontractors Arup North America Ltd. and Biggs Cardosa Associates Inc. — submitted a design-build proposal earlier this year that was selected by the Port and Caltrans as the "best-value" proposal.