ACK Marine & General Contracting Launched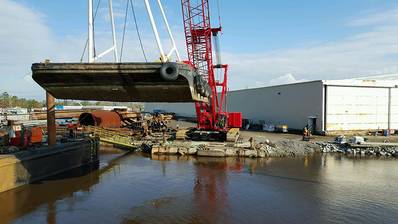 Marine construction industry veteran Kim Shaughnessy launches ACK Marine & General Contracting, a nationally certified woman-owned business to provide diverse marine construction and general contracting services
Kim Shaughnessy, longtime chief financial officer and chief operating officer of Cashman Equipment Corp., officially announced the opening of ACK Marine & General Contracting, LLC, a global marine construction and contracting company based in Quincy, Mass. The firm is certified as a Women Business Enterprise (WBE) at the national level.
"I literally have grown up in the marine construction and services industry, working with clients around the world, and know it represents a huge untapped market for female entrepreneurs," said Shaughnessy, who serves as president and chief executive officer of ACK Marine & General Contracting.
"I believe this company is well-positioned for success in the rapidly growing marine services industry."
Shaughnessy, a 30-year industry veteran, added, "Establishing this company is a natural progression in a career in which I have been a member of executive management teams focused on off- and on-shore marine construction, barge, crane and tugboat rentals,
oil spill response services
, salvage and wreck removal support services and project cargo services. ACK Marine & General Contracting will broaden my reach, and open new channels to expand operations and provide services throughout the world."
During her career, Shaughnessy has formed close working relationships with labor unions including Pile Driving & Divers, the International Union of Operating Engineers, the United Brotherhood of Carpenters and Joiners of America and the International Union of Teamsters, and plans to continue those relationships in her new company.
The certification of ACK Marine & General Contracting as a WBE establishes that the business is majority-owned, controlled, operated and managed by a woman or women. The WBE certification enhances the company's ability to compete for business opportunities throughout the country as well as with government entities at all levels.
Since 1995, Shaughnessy has served as the CFO and COO of Cashman Equipment Corp. (CEC) a global provider of barges and
marine services with
more than 130 vessels, as well as specialized oil spill recovery barges, tugs and cranes.
Since 2006, Shaughnessy also has been owner and chief financial officer of Servicio Marina Superior, LLC (doing business as Superior Marine International 4barges.com). A tugboat rental and marine contracting and transportation business, Servicio Marina Superior operates on both inland and offshore waterways with a special emphasis on the international market.
Shaughnessy began her career in the industry in 1986 as an accountant at J. M. Cashman, Inc., a marine construction and services company.
While attending Newbury College in Brookline, Mass., Shaughnessy studied Financial Accounting. She also has studied accounting at Quincy College and Massasoit Community College and has taken advanced education courses in tax, insurance and other fields. Shaughnessy holds a Captain's Master 50 Ton License, a Captain's Master 100 Ton Certificate and an Assistance Towing Endorsement License from the U.S. Coast Guard.