China Yard Awarded Bulk Carrier Design Contracts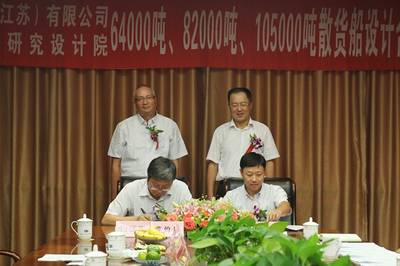 China Shipping Industry (Jiangsu) Co., Ltd. (CICJS) has signed design contracts for 64,000 dwt, 82,000 dwt and 105,000 dwt bulk carriers with Shanghai Merchant Ship Design & Research Institute (SDARI).

CICJS says that through strengthening cooperation with SDARI, CICJS will further its independent research and development abilities, and will also participate in part production design work of the series of bulk carriers.

China Shipping Industry Co., Ltd. was founded in 1998 and is a subsidiary company of China Shipping (Group) Company. Its main business consists of five parts – ship repair, shipbuilding, offshore engineering, yacht manufacture, and river and coastal shipping. The company owns seven major shipyards and six specialized companies located in the Yangtze Delta and the Pearl River Delta.

Pictured: General manager Ye Xiaojian of China Shipping Industry Co., Ltd.(CIC), director Hu Shuguang of the enterprise administration department of CIC, president Hu Jintao of SDARI, vice President Lv Zhiyong of SDARI together with other leaders and guests attended the signing ceremony. The executive deputy general manager of CICJS Wang Yiling and vice President of SDARI Lv Zhiyong jointly signed the design contract.