Drydocks World Contracts with Saipem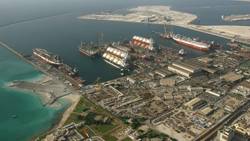 Drydocks World's new global strategy was developed to create additional and increased capacity and efficiencies in all its four important business segments which are; Repairs, Conversion, New building and Engineering. Accordingly, to keep in line with this strategy, it has entered into a Strategic Agreement with Saipem, a subsidiary of the Italian oil company, Eni., an international turnkey contractor in the oil & gas Offshore and Onshore industry.
The Agreement aims at mutual collaboration on projects since the conceptual phase, including their technical development, while ensuring qualitative service delivery. It touches upon areas such as Engineering Support, Procurement, Vessel Conversion, Offshore Fabrication, Repair and Life Extension of Vessels and New Building of FSOs and FPSOs.Khamis Juma Buamim, Chairman of Drydocks World and Maritime World said, "Our thinking is on a global scale and our knowledge and technologies are driven to be cutting edge. Therefore, we are delighted to have reached this agreement with a well-known company such as Saipem. We have jointly implemented path-breaking projects of immense importance to the world's oil and gas industries. Saipem has been one of our loyal clients and we hope to take our business relationship to the next level with this agreement. Our emphasis would be on qualitative delivery of services and making active contributions to technical aspects of the projects."
A "Steering Committee" with members from both companies will define key parameters and achieve mutually beneficial objectives from the Agreement, which will be valid for two years and can be extended upon mutual consent. As a result of Drydocks World's collaboration in the implementation of the agreement and the furthering of its progression, it can now place accurate bids on projects reducing the lead time of Saipem's projects.