OCV Conversion Contract for Havyard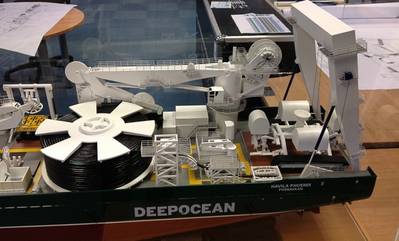 Havyard Ship Technology has been contracted to convert the offshore construction vessel (OCV) 'Havila Phoenix' for underwater cable laying and trenching operations.
Havila Phoenix is a Havyard 858 design, delivered from Havyard's shipyard in Leirvik as a construction vessel in 2009. Since then the vessel has had different charterers and executed several different operations in connection with subsea oil production installations.
For a new charter, the vessel needs to be lengthened with 17,4 m to accommodate the new equipment, and close to 700 tons of new steel will be installed.

The stern will also be reinforced and a 250 tonnes A-frame will be installed to support the trenching apparatus.
Havyard say that a large part of the conversion will be to install the cable laying equipment, which includes installation of a horizontal cable drum with capacity to store 2000 tons of cable.

Key data for Havila Phoenix (after the conversion):
- Length: 127,40 m
- Breadth: 23 m
- Deck area: 1450 m2
- Accommodation: 140 persons