Thome Group Opens New Copenhagen Office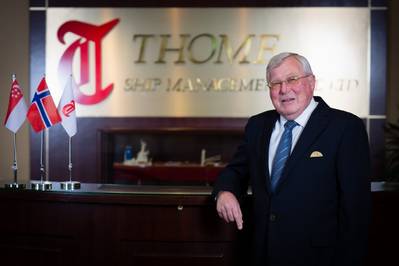 Thome Group, Singapore's first independent ship manager, celebrates its 50th anniversary this year & continues to expand its global footprint.
As part of this expansion, Thome is opening a new ship management office in Copenhagen, Denmark. The move underlines Thome's drive to further service its already strong ship owner client base in Scandinavia, and expands the company's European presence as a platform to offer its full range of ship management services.

With the establishment of Thome Ship Management Denmark in Copenhagen, Thome reaffirms its long-term commitment to actively support the Danish Maritime Cluster growth strategy as a future European maritime hub.
The new Copenhagen office will formally start operations next month (June 2013) and is expected to give Thome an opportunity to provide ship management services under the DIS flag. This is in addition to the 20 other flags which the Thome Group of companies presently manages its vessels under.

The Danish office will report to the Singapore main office as well as take its back office support from Thome's strong and well established Asian operations, allowing a lean setup and competitive service provision.

Spearheading the Thome Denmark Copenhagen operations will be Mr Stig Holm , who joins from a well-established leading Danish shipowner with whom he served as a Director, Fleet Management.
Thome Group Chairman Mr Olav Eek Thorstensen said: "With the opening of our brand new European office, we position ourselves optimally and in close proximity to many of our existing Scandinavian customers. I am confident that with the skill sets and well-developed networks available within the Danish Maritime cluster, we will be able to further elevate an already well recognised service offering for our existing and potential partners."