Wärtsilä Corporate Charity Funds African Primary School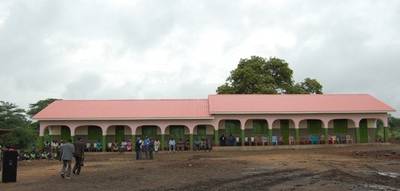 Karika community in South Sudan gathered recently for the opening of a new primary school which is the first permanent school built in the community.

The school initially has 307 students enrolled and it's meant to be an example for the community. Developing education is crucial as 50 % of the country's population is under 18 and much damage to the education system was done during the war in 2012.

Marko Vainikka, Director, Corporate Relations and Sustainability at Wärtsilä, says that the project is a good example of finding the best way to impact communities in a positive way. The Karika Primary School is out to prove that the whole community benefits from education – setting an example for its neighboring areas, as well.

"We have built a couple of schools in Sudan also earlier on, and this is a continuation of that effort. In places like Brazil and India, the charitable work takes on different guises, but the drive and the dedication is the same: we want to work locally to provide significant improvement in people's lives.

Wärtsilä says it has a long tradition in sustainable business practices. Besides developing their core businesses in shipping and energy industries in a sustainable way, Wärtsilä also aims to be a responsible corporate citizen and supports various initiatives, development projects and organizations around the world.