Crowley Delivers Incinerator to Tortola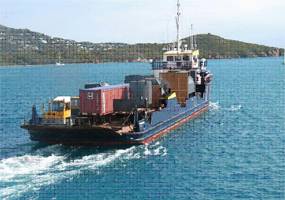 Crowley's logistics and liner services groups completed the transport of an incinerator to Tortola on Jan. 18 to replace the island's existing trash disposal unit.
The government purchased the mid-size incinerator from Consutech, Systems LLC and contracted Crowley to move it from the factory in Richmond, Va. The 42 individual pieces were handled with specialized equipment including 10 flatbeds and four open-top containers. The largest of the pieces was 30 ft long and 13.5 ft high and wide and weighed 80,000 pounds. The total weight of the incinerator was more than 235 tons.
Once installed, the new unit will burn 100 tons a day of the island residents' trash in comparison to the 55 tons a day their current aging incinerator burns. This additional waste disposal capacity will aid the island during the busy winter tourist season and with year-round cruise ship calls.
Crowley's Roll-on/Roll-off (Ro/Ro) service was used due to the reduced amount of handling required for the fragile pieces. If moved on a Lift-on/Lift-off (Lo/Lo) vessel, the pieces would have had multiple transfers, but Crowley's Ro/Ro service required only one transfer, greatly reducing the potential for damage. The incinerator was sent by barge to St. Thomas via San Juan, Puerto Rico. From St. Thomas the load was taken by connecting carrier, EZ Shipping, aboard the MV Midnight Tide and MV Midnight Chief, to Tortola.
"The movement of this massive unit was a team effort from both Crowley's logistics and liner services groups," said Bob Weist, general manager of truck brokerage for Crowley. "The loads were over dimensional and therefore required special permitting for their road transit."
Crowley was chosen for the job because of their local presence in Tortola and history of handling large and unusual cargo. Upon receipt of the unit, the Ministry of Health and the British Virgin Islands Minister expressed satisfaction with the service Crowley provided.