Decommissioning Gets into Deep Water in GoM
(Credit: LOC)
David Ballands is LOC Group's Regional Director for the Americas, covering LOC's offices in Canada, the USA, Mexico and Brazil. David is one of LOC's most senior civil engineers, specializing in the transportation and installation of offshore structures and the investigation of fixed object damages.
LOC Group's Houston office provides perspective on decommissioning developments in the Gulf of Mexico.
The Gulf of Mexico basin covers approximately 1.6 million km2 and is one of the most important petroleum production regions in the world. A significant portion of the area is shallow continental shelf waters. These areas were developed first by oil companies, with deeper water development only being undertaken once the 'easier' sites had been exploited.
Many years on, numerous shallow water platforms have been successfully decommissioned and the industry is starting to view the deep-water sites with a view to the same.
GoM Decommissioning Trends
Established in London nearly 40 years ago, London Offshore Consultants (LOC Group) is an international, multi-disciplinary organization with over 30 offices worldwide and more than 400 qualified professionals. Alan Clifton, LOC's Operations Director has more than 35 years of experience in all aspects of offshore and onshore construction. As principle Marine Warranty Surveyor (MWS) he has approved operations – transportation, installation and decommissioning – both onshore and offshore, all around the world.
Clifton recently relocated to LOC's Houston office from LOC's Norwegian office where he previously was covering decommissioning operations in the extremely difficult environment of the North Sea. In September, he weighed in on both the history and future of Gulf of Mexico decommissioning operations.
Clifton explains that until recently, decommissioning has not been a "headline" consideration in the Gulf of Mexico. Shallow water decommissioning has been relatively routine, with topsides and jackets being removed and brought to shore for scrapping or re-purposing, or in the case of some jackets, purposefully sunk to form artificial reefs, which provides sanctuary to marine life and flora and fauna in the area.
Over the last 20 years, LOC's focus has been predominantly on the installation of new facilities in the Gulf. LOC's Houston office has worked on the installation of many deep-water projects and fixed platforms, including TLPs, Spas, FPSOs, and subsea installations, while the LOC Tampico office has concentrated on shallower water projects in Mexican waters.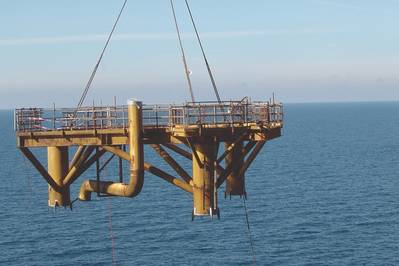 (Credit: LOC)
This is starting to change. A number of the platforms in deeper water are reaching the end of life stage and decommissioning will soon become necessary. The process of decommissioning these larger and deeper water platforms will be more complex and require more detailed and engineered solutions to plan and execute such operations safely and effectively.
"Decommissioning is a slowly growing market," said Alan, adding, "We are in conversation with several oil companies about future projects, but the timescale is uncertain. In common with operators all around the world, the exact decision to decommission depends on many variables – with the price of oil worldwide, the price and availability of oil and gas from onshore fracking, and increasingly stringent regulations – all influencing the decision. It costs money to decommission a platform and so no operator wants to launch a costly process if they don't have to in uncertain economic times."
But he says that the industry's focus has also shifted significantly since the Deepwater Horizon disaster, adding: "Nowadays, companies looking to decommission a structure want to be seen as a responsible and 'good' business. Oil companies' reputation is now uppermost. Lessons have been learned from experience around the world and with a strong and vigilant environmental lobby, companies are approaching the process very differently."
Looking Back
The decommissioning of the smaller platforms in the Gulf of Mexico has generally involved smaller equipment which is already located in the region, along with readily available and well developed local expertise. The decommissioning of larger and deeper structures will require larger equipment which is not necessarily locally based and will require additional complex planning and execution.
LOC has worked on many of the early decommissioning projects through to the recent removal of the YME Platform topsides in the North Sea, providing marine advisory services through the numerous project phases to the final MWS approval for the removal. The YME project was the first use of the "Pioneering Spirit" – the world's largest offshore construction vessel, designed specifically for single lift installation and removal of large oil and gas platforms. In addition to lift removal, LOC has over the years also worked with a number of other innovative removal methods, including the re-floating of an entire steel gravity-based platform complete with its topsides, and removal of jackets by attaching floatation tanks and de-ballasting to float the unit after leg cutting below seabed level. In all cases, the re-floated units were then towed to an inshore disposal site. Many valuable and unique lessons were learned during these operations.
Deepwater
For the decommissioning and removal of a deep-water platform the methodology, engineering, and procedures are all key areas of focus in the removal design process, and all aspects are likely to be commensurately more complex than for smaller shallow water platforms.
Looking forward, Alan anticipates that many of the techniques likely to be applied in the Gulf of Mexico will be tried and tested, with little call for new innovations. He explains that innovative practices can often turn out to be prohibitively expensive, as was the case in the early days of decommissioning. New methods can be viable if there are many similar platforms to remove and dismantle, but in the Gulf he expects it's likely to be done on a platform by platform basis, with evolution of existing techniques rather the development of completely new ones.
Today, more offshore structures are being removed than installed in the Gulf of Mexico and the contractors who historically would normally focus on installation are increasingly looking at decommissioning as an area of business. They have the capabilities and the equipment, which just need to be adapted and utilized differently to meet decommissioning and removal project requirements.
Clifton says that the key driver for decommissioning in the region will be, as it is in all other areas of the world, cost. It's an unwelcome cost for oil companies and straightforward, trusted methods are likely to be favored. This will offer good opportunities for both local and international contractors to be involved, building on existing knowledge to develop their service offering, as more and more structures face the same process.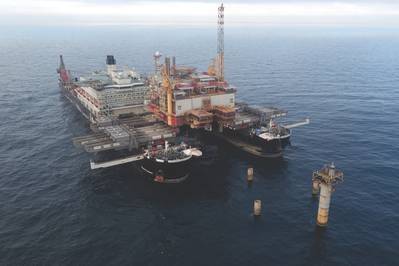 (Credit: LOC)
This article first appeared in the November 2018 edition of MarineNews magazine.