Maersk Deepwater Rig's Incident Free Year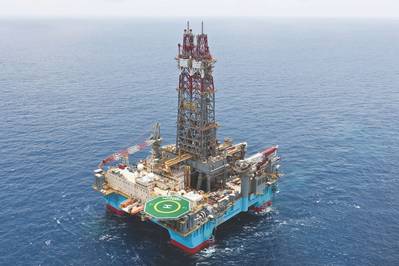 The crew of the 'Maersk Deliverer' has achieved a 'One-Year Free of Accidents' award during operations offshore West Africa.
Maersk Deliverer has been operating in six different countries in West Africa for eight different clients over the past two years and is currently on a two year contract with Chevron, Angola.
Maersk Offshore say that the crew received the award due to a relentless pursuit of keeping a safe and incident-free environment on-board the rig.
"On Maersk Deliverer, we believe that the crew is the cornerstone of all our operations. With determination and hard work they have used and utilised every tool at their disposal to reduce incidents and avoid accidents," says Jens C. Rise, Director and Rig Manager for Maersk Deliverer.

"Educating people new to Maersk Drilling in the 'Maersk Drilling way' of always stopping a job, when a risk is observed, has had a tremendous effect. The 'Stop Work Authority' has made us all ambassadors of our own core values. This can only be achieved by positive reinforcement and leading by example."
Offshore West African countries such as Angola, are believed to have one of the largest ultra deepwater oil reserves in the world, and it is one of Maersk Drilling's main areas of interest as it employs its growing fleet, aiming to deliver USD 1.0 billion to the A.P. Moller – Maersk Group's profit by 2018.