Keppel to Deliver Fourth ENSCO 8500 Rig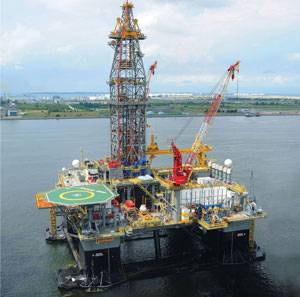 Keppel FELS Limited (Keppel FELS) is on track to deliver ENSCO 8503, the fourth of seven ENSCO 8500 Series semisubmersible drilling rigs being built exclusively for Ensco plc (NYSE: ESV). ENSCO 8503 is scheduled to commence a two-year primary term with Cobalt International Energy, L.P. in the Gulf of Mexico in early 2011.

The rig was named at Keppel FELS by Lady Sponsor, Cynthia Bryant, spouse of Joseph H. Bryant, Chairman & CEO of Cobalt International Energy, L.P., in the presence of Guest of Honor, Ho Ching, Executive Director & CEO of Temasek Holdings Pte Ltd.

Daniel W. Rabun, Ensco's Chairman, President & CEO, said, "Given our long-term relationship and confidence in Keppel FELS, Ensco has awarded Keppel FELS contracts for all seven rigs in the ENSCO 8500 Series.

"ENSCO 8500 and ENSCO 8501 are the first two deepwater rigs to be certified by the Bureau of Ocean Energy Management Regulation and Enforcement (BOEMRE) under NTL No. 2010 – NO5 in the U.S. Gulf of Mexico under the new regulatory framework, and we anticipate similar success for ENSCO 8503."

Over the course of completing the first four units of the more than $3b ENSCO 8500 Series seven-rig fleet, Keppel FELS has trimmed construction lead time by about 1 million man-hours, compared to the first unit.