Damen Delivers Twin Axe to Northern Offshore Services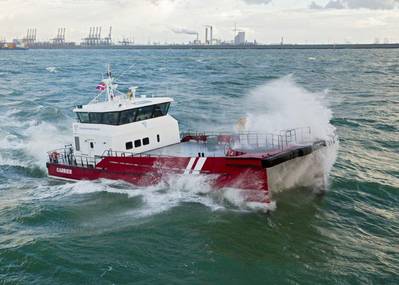 Northern Offshore Services has taken delivery of its first Damen Twin Axe, just weeks after the order was placed in August. The 26-meter Fast Crew Supplier is already being deployed at an offshore wind farm in the North Sea.
Crewboat operator Northern Offshore Services has offices in Sweden and Denmark and a fleet of nearly 20 vessels. The company specializes in the safe and reliable transport of personnel and equipment to the offshore (wind) industry and is a new customer for Damen.
Martijn Smit, Damen Sales Manager Europe, said, "Because we build these vessels for stock we could deliver very quickly – actually within five weeks - of the order being placed."
The new vessel is sailing under the Danish flag. She left Damen Shipyards Gorinchem (NL) to travel to Esbjerg in Denmark on September 16 in particularly bad weather, but despite the stormy conditions still managed average speeds of 18 knots.
The Damen Twin Axe is derived from an extensive research and development program for the optimization of seakeeping and maneuverability whilst carrying out offshore operations. The introduction of this vessel type was a significant step forward from more conventional seagoing High Speed Vessels, due to the characteristics of its hull form, which ensures low resistance, a high sustainable speed in waves and superior seakeeping. This in turn, Damen said, leads to lower fuel consumption.
damen.com