GPA DeliversFinal 670 Platform Supply Vessels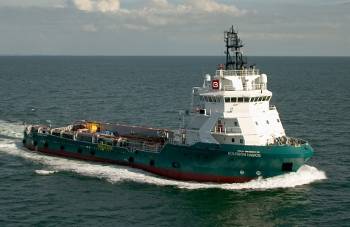 In late 2010, Seattle-based Naval Architecture and Marine Engineering firm Guido Perla & Associates, Inc. (GPA) reached yet another milestone with the delivery of the last of 22 GPA 670 PSVs constructed at different yards owned by Sinopacific Shipbuilding in China, such as Zheijang and Dayang Shipyards.
The first of the original ten vessels was delivered to Bourbon Offshore in 2005 at Zhejiang Shipyard. Soon, orders by Bourbon followed for different versions of the original GPA 670 PSV and GPA worked closely with Bourbon and the shipyard to develop the GPA 670 MKII Special Products PSV, as well as the GPA 670 MKII ROV. Between 2007 and 2010, four of each of these additional two versions were constructed at Sinopacific Shipbuilding. Yet another four GPA 670 MKIII PSVs, also constructed at Sinopacific, were delivered to Tidewater in 2009.
All of these twenty-two 70-meter vessels are equipped with diesel-electric propulsion systems, consisting of three main diesel generators, two azimuthing Z-Drive units, two tunnel bow thrusters, as well as one emergency generator. Diesel-electric systems have become a successful standard for most GPA-designed offshore vessels over the years with over 100 vessels already in service. More than 40 currently under construction and several others yet to be announced will also be equipped with diesel-electric propulsion configurations. Such systems result in considerable fuel savings and lower emissions as one or more of the generators can be shut down for stand-by or slower moving operations while also providing power to all other electric consumers aboard. Another advantage of these systems is increased cargo space below deck by approximately 30% as diesel-electric vessels benefit from the elimination of the drive shaft. These benefits, combined with competitive new-building cost, the result of simplified construction methods, have been proven to be very efficient solutions for their owners and operators.
"We at GPA are very proud and thankful to have been a part of these projects and to see these twenty-two vessels completed. We are especially pleased with the fact that we provided engineering services to Bourbon and Shell to deliver an unprecedented design with the first ever IBC-2 certified offshore supply vessel. This vessel, one of the GPA 670 MKII ROVs, designed with an extra deck in the forecastle and heavy modifications to the entire center of the vessel below the main deck, is the first PSV worldwide with chemical tanker capabilities," says George Karantsavelos, Project Manager and Naval Architect at GPA. "In order to meet new clean hull and other regulations issued while these twenty-two vessels were under construction, GPA has already developed an updated version to replace this very successful design and we certainly believe it will be an excellent addition to the fleets for the years to come."