Chelsea Demonstrates 'FastOcean' System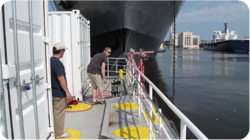 UK's Chelsea demonstrates its 3rd generation Fast Repetition Rate Fluorometer - the new FastOcean - to interested groups at Baltimore Harbor

Applications for FastOcean include fish survival assessment studies, coastal monitoring, iron fertilization experiments, algal bloom monitoring, water contamination detection, ballast water monitoring and laboratory culture monitoring.
The participants took part in the deployment of the FastOcean Profiling System from the University of Maryland's unique 155' Mobile Test Platform. They also tried out the sensors in a laboratory setting. The FastOcean system is the only multi-wavelength Fast Repetition Rate fluorometer for use both in the laboratory and in situ for real-time estimation of gross primary productivity.

The Mobile Test Platform from which Chelsea Technologies conducted the FastOcean demonstration is part of University of Maryland's Environmental Research Center and is available to provide test facilities, expertise, information, and decision tools to address key environmental issues facing the international maritime industry.