Derecktor Wins Staten Island Ferry Contract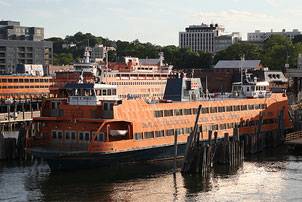 The New York City Department of Transportation (NYCDOT) announced that Derecktor Shipyards Connecticut had been chosen as the selected supplier for a five year service and supply contract for maintenance and repair of the Austen Class Staten Island Ferry Boats. The award represents a major success for the Bridgeport Ct shipyard, as it is the initial major service contract to result from the yards newly expanded 4000 ton dry dock.

The scope of the contract includes regular required dry dockings and inspections as well as scheduled maintenance such as hull cleaning, hull and superstructure blasting and painting, zinc replacement, and mechanical maintenance, including main engine overhaul. Service for the Voith- Schneider propulsors is also included. Other work such as renewal of plating and replacement of windows is also encompassed by the contract.

"We are extremely pleased to have been chosen for this award" said Gavin Higgins, VP of Business Development at Derecktor. "It shows that our new dry dock and transfer system is finding a ready market, and will let us put our capabilities to work on larger vessels. This was a competitive process and we bested some very qualified bidders, meaning that we are obviously competitive on large-scale commercial work, while being able to handle fine yacht work simultaneously in the same facility."

The two Austen Class vessels are each 207 ft long, with a 41-ft 10 inch beam and a displacement of 758 long tons.