Wave Yacht Design Wins Award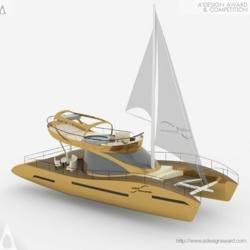 Wave catamaran cruiser yacht design by Roberta Visintin wins the Silver A' Design Award
A' Award and Competitions announce that the design Wave Catamaran by Roberta Visintin has been recognized with the Silver A' Design Award in the Yacht and Marine Vessels Design Category, after rigorous judging by the international committee of A' Design Awards & Competitions.
Roberta Visintin, the creator of the project Wave Catamaran explains: "Thinking about the sea as a world in a continuous movement, we took the "wave" as a symbol of it. Starting from this idea we modelled the lines of the hulls.
The second element basic to the project idea was the concept of a living space that we wanted to draw in to a sort of continuity between interiors and exteriors.
Through the big glass windows we get an almost 360 degree view, added to by the glass doors, both of which allow a visual continuity with the outside."
Wave Catamaran was conceived by designers. Roberta Visintin and Cristiana Foytik
Silver A' Design competitors are judged by a panel of three different jury members composed of 10 academic, 10 professional and 10 focus group members.