QM2 Visit Boosts UAE as Cruise Ship Destination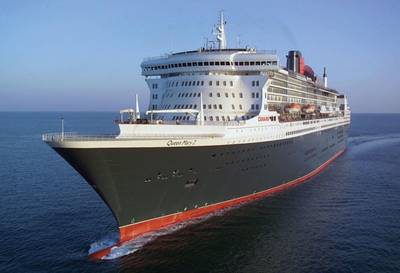 Cunard cruise ship 'Queen Mary 2', is set to make its maiden call in the capital on 29th January.
Queen Mary 2's stop in Abu Dhabi is part of her 2013 World Voyage – a 106-day voyage from Southampton in the UK which will take in five continents – and is considered a significant boost to the UAE capital as it increasingly becomes an established global cruise destination. Officials believe the visit will boost Abu Dhabi's profile as it seeks to receive 180,000 cruise passengers in the current cruise season.
The AED3.22 billion luxury cruise ship will dock in Mina Zayed before sailing with its 2,620 passengers for Kochi, India.
Welcoming the liner's arrival, Captain Mohamed Al Shamisi, Executive Vice President, Ports Unit, Abu Dhabi Ports Company (ADPC) said, "We are delighted to welcome the Queen Mary 2 to the UAE capital, as part of its 2013 World Voyage. This clearly underlines the commitment ADPC has towards developing its cruise liner capacity and offerings, from Mina Zayed, while demonstrating the fact that quality cruise liners are increasingly recognising the advantages, to their passengers, of having Abu Dhabi as a key destination."