Developing Better Marine Inspectors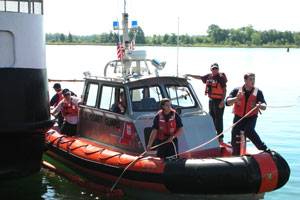 The Coast Guard Marine Safety Detachment (MSD) Sturgeon Bay, Wisconsin and the Washington Island Ferry Line (WIFL) located in Washington Island, Wisconsin teamed up to create a Small Passenger Vessel (SPV) industry training program for Coast Guard Marine Inspectors.

Early this summer WIFL's President, Mr. Dick Purinton, and Lieutenant Jerry Butwid of MSD Sturgeon Bay, met to create the training program to provide marine inspectors with a better understanding of the industry they regulate. The training exposes marine inspectors to the business realities outside the regulatory bubble, such as how budget constraints and environmental conditions affect decision making, Lieutenant Butwid said. This experience will help inspectors engage in productive discussions with vessel operators and make informed, fair decisions when faced with controversial issues, he explained.

Mr. Purinton stated "The one-week snapshot of our operation is designed to impart a practical balance with the inspector's technical background. We hope to show, for instance, the importance of supporting customer and community needs; the importance of maintaining skilled crew ashore and afloat; the need for marketing, profitability, and prudent use of resources; how a respectful, proactive corporate attitude toward official policy and regulation can influence our business in a positive way. In other words, vessel readiness and safety is all-important, but so are the many other things we do daily to stay in business."

Mr. Purinton and Lieutenant Butwid developed a flexible course syllabus that can be tailored to fit the needs of the inspector's background and experiences and will be open to inspectors throughout the Coast Guard.

The program also includes observing the daily implementation of the Streamlined Inspection Program (SIP). The SIP is a voluntary alternate method of inspecting a vessel to ensure regulatory compliance where company personnel conduct frequent, periodic examinations of the various vessel systems, document their findings, and take the necessary corrective actions specified in the Coast Guard approved plans. The Coast Guard still conducts required inspections of the enrolled vessel. However, the manner of conducting the inspection is considerably more topical, unless problems are found. Usually, SPV inspectors only witness the SIP when they conduct an annual audit of the vessel enrolled in the program. Since one of WIFL ferries is enrolled in the SIP, trainees have a rare opportunity to see how the company implements the SIP requirements on a day to day basis.