HII President at Children Development Fundraiser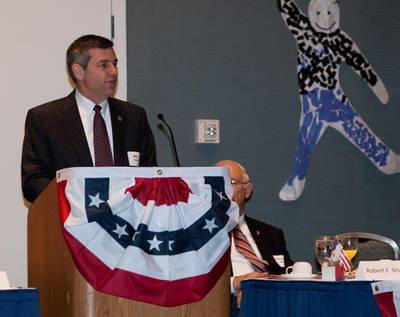 Huntington Ingalls Industries President & CEO Mike Petters keynote speaker at 11th annual Breakfast to Benefit the Children of Downtown Hampton Child Development Center.
The event, held at the Hampton Roads Convention Center, is designed to educate guests about the Child Development Center and to raise funds for its operations.

The Downtown Hampton Child Development Center is a non-profit preschool that serves 200 children between the ages of 6 weeks and 5 years. The school's mission is to nurture young children by providing affordable, quality preschool programs that develop the "whole child" and foster school readiness. The center offers the Peninsula's only sliding-scale tuition rate, based on family income, with a focus on children from at-risk and underserved populations, including children with special needs.

"I personally believe that education is one area that we as a nation have to get right, or a lot of other issues will become inconsequential," Petters said in his remarks. "I believe it will be the thing that drives the country forward for the next several decades."

Petters continued, "If you ask what's different about America than other countries in terms of education, what you will find is that countries that are ahead of us have formal preschool programs. It's almost that simple." Petters pointed out that in the U.S. children start kindergarten programs when they're about 5 years old, whereas in other nations children begin school when they turn 3 or 4.

For the full text of Petters' speech is here.