Caterpillar Volunteers Build Thailand Houses for Disadvantaged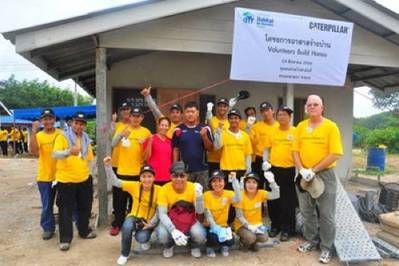 The company had more than 100 of Caterpillar's personnel volunteer to help build homes for low-income families in Rayong Province, Thailand.
The home building project is part of Caterppillar's commitment to communities where ther employees live and work. The Caterpillar Foundation invested in Habitat for Humanity Thailand, a non-profit organization, which funded the construction of 12 homes for low-income families in three locations in Rayong Province (Nong Lalok Sub-District, Nong Taphan Sub-District and Samnak Thon Sub-district).
With our two newly established manufacturing footprints located in Nong Lalok Sub-District, the team brought the 100 Caterpillar Community Volunteers to help with the construction of five homes for families in Nong Lalok who have never been able to afford a real home.

"I have been saving money each month to build a home for my family for more than five years. Now with funding from Caterpillar through Habitat, and the work of Caterpillar Community Volunteers who came to help me today, my family and I are hoping to live in a real home in a month to come," Sumitr Chaow-khowdin, 25-year-old home owner, said.

The real action started shortly after presenting a symbolic home key to home owners and their families, with all the dedicated Caterpillar Community Volunteers putting in hard work digging trenches for septic tanks, moving sand for house floors, mixing cement and building walls. The event, say Caterpillar marked a small first step for them in Thailand, as they start to make an impact and a difference in the community.