MARPOL, VIMSAS Top Discussion at Caribbean Meeting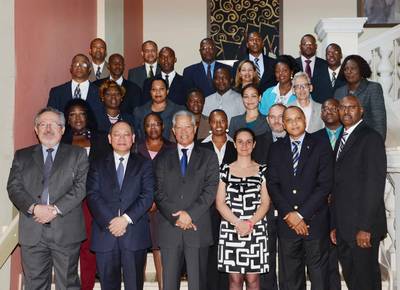 MARPOL and VIMSAS topped discussions when senior Caribbean maritime administrators met in Montego Bay, Jamaica this week (February 19 and 20).

The Regional Senior Marine Administrators Workshop was hosted by the Maritime Authority of Jamaica during a milestone visit to the country by Mr Koji Sekimizu, Secretary General of the International Maritime Organization (IMO).

Representatives from 20 countries met to consider a list of programs to be submitted to the IMO for support under its International Technical Cooperation Program (ITCP). As a part of the IMO's ITCP in the Caribbean, Senior Maritime Administrators meet to develop programs of Technical Cooperation for the biennium to present to the IMO. In the past such programs have included strengthening of the institutional and legislative framework of fledgling maritime administrations in the region, as well as human capacity building.

Key areas of interest at this year's meeting were the IMO International Convention for the Prevention of Pollution from Ships 1973 (MARPOL) and the Voluntary IMO Member State Audit Scheme (VIMSAS). The group also felt that other matters of importance were Maritime Policy development, Search and Rescue and Port State Control.

Mr Jianxin Zhu, Director, IMO Technical Co-operation Division, who led the IMO team at the workshop, said: "IMO is happy to be a part of this meeting looking at the needs of the Caribbean region in terms of the new Integrated Technical Cooperation Program for the next biennium. The workshop is useful for the senior administrators in the region to meet and share information, offer assistance to each other and enhance regional capacity building cooperation. The IMO is very supportive of this workshop and will continue to support the Caribbean countries in their bid to discharge their maritime obligations under the various IMO Conventions."

Also there to guide discussions from the IMO perspective was Mr Pedro San Miguel, Head of the IMO Latin America and Caribbean Section of the Technical Co-operation Division and Mr Colin Young, Regional Maritime Adviser for the Caribbean.

Resolutions agreed by the Senior Marine Administrators Workshop will be passed on to a High Level Symposium meeting of Ministers of Transport in the Caribbean, drawing delegates from a variety of the region's States and overseas territories, as well as Jamaica. The IMO Secretary General will address the Ministerial meeting on the subject of the VIMSAS scheme. The Secretary General is in Jamaica from Feb 20 – 23.