WWII Mine Disposed of at Site of World's Largest Offshore Windfarm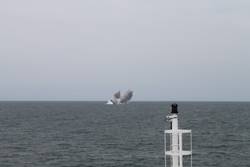 Explosive Ordnance Disposal (EOD) specialist Ramora UK (www.ramorauk.com) reports that it has safely disposed of an unexploded World War II mine onsite at one of the world's largest offshore windfarm. The four-man Ramora UK team used a Remotely Operated Vehicle (ROV) to place a countermining charge next to the 1,500lb (680kg) mine which had been assessed as high-risk due to damage previously sustained to it. Throughout the procedure a 1,500m safety zone was maintained to protect other vessels in the area.
"The expansion of the offshore renewable energy sector is creating an increased requirement for rapid and safe disposal of the UXO that is very common in coastal waters," said David Welch MIExpE, Managing Director of Ramora UK. "This mine was particularly hazardous because of damage that had occurred to its booster release mechanism. We are very pleased that our experienced operators were able to deal efficiently with it."
A controlled explosion was then initiated from a safe distance, leaving an underwater crater 65ft (20m) wide by 13ft (4m) deep. The German, ship-laid, ground mine was detected in 115ft (35m) of water, 20 miles (33km) off Harwich in Eastern England, on the site of the Greater Gabbard Windfarm which will be the world's largest offshore windfarm when it is completed next year.
Portsmouth-based Ramora UK was contracted by the prime contractor on the project, Fluor (www.fluor.com), which had first called in the company for another mine found at the site in 2009. Ramora UK used elements of the REODS suite of equipment to dispose of the mines.
REODS reduces the human and commercial risks of EOD by removing the need for a diver. It is kept on 24/7 standby, is fully mobile, and can be rapidly deployed anywhere in the world transported in a 10ft container. If necessary it can move UXO to a safe location for disposal and it has already been used to dispose of many similar items.