Korea's HHI Shows Diverse LNG Carrier Models at Gastech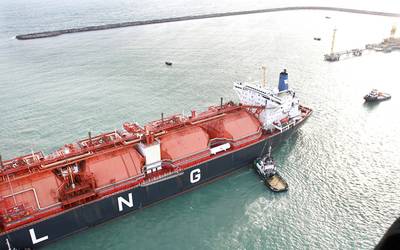 Hyundai Heavy Industries (HHI), claimed to be the world's biggest shipbuilder, and the only one in Korea capable of constructing both Membrane type and Moss type LNG carriers, informs it will exhibit at the upcoming Gastech 2014 show in Gyeonggi Province, South Korea.

The shipbuilder says it has taken the lead in introducing cutting-edge LNG-related ships, and developing independent LNG storage system and technology. It will show models of an LNG carrier, an LNG FPSO and an LNG FSRU at the event.

Company milestones
In February 2014 HHI held a naming ceremony for the world's first newbuilding 170,000 cbm LNG floating storage regasification unit, Independence. In April last year, the company received Design Approval from classification societies including ABS, and DNV for its own membrane type LNG containment system. In January 2012, HHI completed the development of its own Hyundai FLNG (Floating Liquefied Natural Gas Plant) model in association with Linde AG, an international industrial gas and engineering company of Germany.

HHI has won a total 12 LNG and LPG carriers worth KRW 2.5 trillion, and two offshore plant projects worth KRW 1.17 trillion to date from the world's biggest LNG exporting country, Qatar.

Gastech 2014
Hosted in East Asia for the first time, showcases over 380 international exhibitors from 44 countries, and is expected to attract about 15,000 visitors. The exhibition, operating on an 18 month interval, is one of the world's three premier natural gas exhibitions including World Gas Conference and LNG Conference.